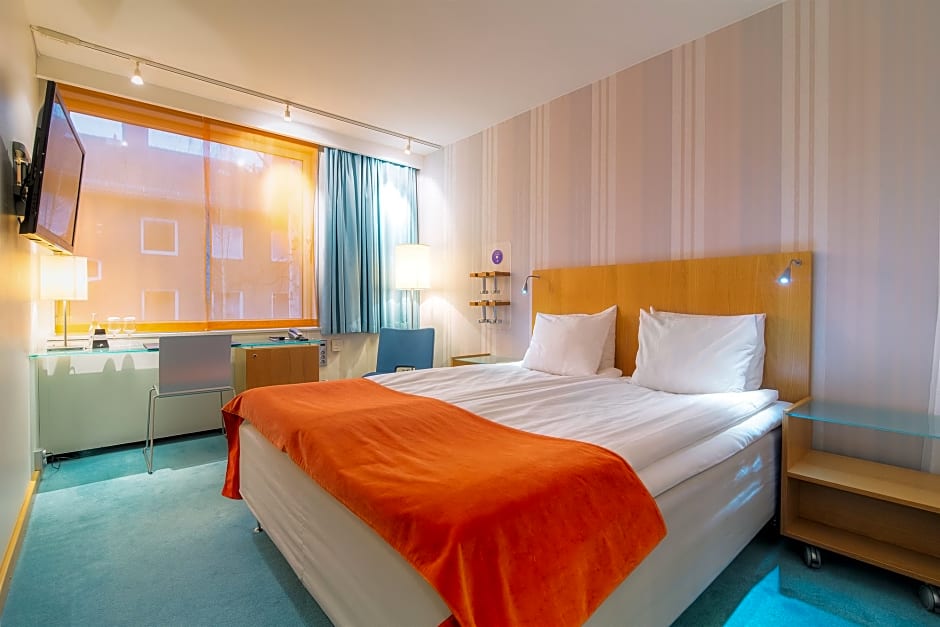 Hotel Aveny is a luxurious 4-star hotel renovated in 2006. This elegant property is situated in the very heart of Umeå and offers an ultra modern setting complemented by sleek and chic décor.

At Hotel Aveny the combination of textiles, colours and lighting creates an exciting visual experience in both the guest rooms and public areas.

The guest rooms at Aveny are equipped with beds from the Swedish quality bed maker Carpe Diem. They also offer workout equipment and a workout video. The suites have private Jacuzzis or saunas and plush bathrobes.

The in-house Angelini Hotel Restaurant & Bar serves Italian and American inspired cuisine in a fresh and modern environment.

The Pipes of Scotland pub offers a massive range of beers and whiskies and is a popular venue among both guests and locals.
ゲストレビュー
自分の意見や感じたことを教えるためにはこちらをクリックしてください >>
予約する方法
Hotel Avenyで予約するのが簡単で安全でございます。ご希望の日付を選択します。そして、フォームを送信するために「料金を確認し」というボタンをクリックします。 客室タイプと料金はお宅の画面に戻った後で、画面の中央にある部屋の情報を読むと画面の右側にある「予約する」というボタンをクリックすることによって希望の料金を選択することができます。希望の客室タイプを選択した後で、「ご予約を完了」というフォームに転送されます。その時に「滞在の詳細」を確認して、「ゲストの詳細」という部分の空欄でご自分の詳細のことを書きます。ご自分の名前とメールアドレスが正しく入力されていることを確認してください。 すべての重要な情報を記入した後で、「ご予約を完了」というボタンをクリックしてください。ご自分のセキュリティを確保するために、私たちがクレジットカード番号を暗号化し、非使用可能な形式にエンコードする安全なコマースサーバーを使います。
地域情報
空港

Umea, Sweden (UME)

- 2.52 mi

Ornskoldsvik, Sweden (OER)

- 48.59 mi

Skelleftea, Sweden (SFT)

- 59.96 mi